Irrigation Installation And Design
In Napoleon
Save Time And Watch Your Landscape Thrive
Making Landscapes Thrive For 105 Years And Counting
Enjoy Hassle-Free
Lawn Irrigation
Imagine having a stunning, green lawn that you don't have to stress about watering. No more dragging around hoses or worrying if you've forgotten to water the grass. Let's make this a reality with professional irrigation installation and design services.
You will benefit from a personalized, automated system just for your yard, making your life easier and your lawn happier. So, spend more time enjoying your outdoor space or doing what you love while we care for the rest.
Environmentally Friendly Irrigation Installation
That Saves You Money
As a homeowner or property owner in Napoleon, Ohio, you deserve a worry-free solution for maintaining a beautiful and healthy landscape. Our irrigation installation and design services provide just that, with a smart system that automatically delivers the ideal amount of water to your lawn and even adjusts based on rainfall.
Enjoy peace of mind knowing your lawn is hydrated without overwatering or underwatering. Plus, the eco-friendly nature of our system helps conserve water, benefiting both the environment and your wallet. So start enjoying an irrigation system and revolutionize your lawn care routine.
A Smart Irrigation System For Your Lawn
In 3 Easy Steps
An automated irrigation system takes care of two important aspects of your life. The first one is spending your limited free time as you please, close to your family and friends. The second one is making sure the home you've been working so hard for looks its best. A green, healthy lawn is your home's business card. Here's how you can get it:

Step 1. Get In Touch With Us
When you've decided it's time to stop watering your lawn by hand, give us a call. We'll talk about your vision for your yard and we'll schedule an on-site assessment.

Step 2. Design & Installation
We'll come to your property to determine your landscape watering needs. Next, we'll design and automate the irrigation system to give your lawn the right amount of water at the right time, without any effort on your part.

Step 3. Enjoy A Green Lawn All Year
Now that your lawn can take care of itself, you've got your time back. Enjoy spending it with your family and loved ones, doing things that matter to you, without worrying about your lawn going downhill.
Irrigation Installation Prices
To make sure your lawn's needs are met every season, your irrigation system needs to be properly set. We are certified as landscape and irrigation professionals. Our knowledge, experience, and tools help us optimize your system to create a balanced and inviting outdoor space. All that's left to do is enjoy an appealing, usable, and sustainable lawn.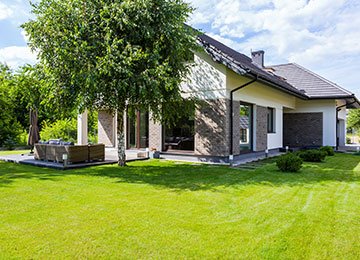 Medium Irrigation System*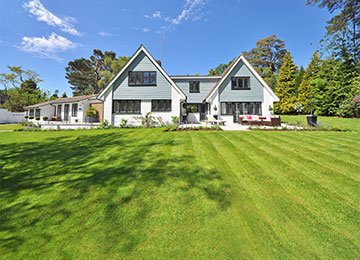 *The prices are average and may change depending on your yard footage, your yard's needs, and any extra features you'd like your irrigation system to have. We will provide an exact quote after the on-site assessment.
Irrigation Installation And Design Cost Calculator
Keeping your yard looking healthy and fresh is important for the overall appearance and function of your property. With a custom irrigation system, we can help you keep your lawn looking it's best.
There are multiple factors that go into designing and installing the perfect irrigation system for your home:
Use our slider calculators to the right to get a better idea of what your irrigation investment looks like. We are here to make this process easy and enjoyable!
Drag the sliders to adjust your values
Irrigation Installation Portfolio
Over the last 105 years we've worked on thousands of residential and commercial projects. Each project was enhanced by our creativity as well as our knowledge of plants, irrigation, and design. Browse our gallery below to get a glimpse of what's possible for your lawn.
Here's What Customers Say
Our happy clients from around the greater Toledo area and Northwest Ohio love the work that we do, and our commitment to the environment. Most of all, they love how our long-term irrigation solutions free up their time and help beautify their home.
Chris did a phenomenal job with our irrigation system.
He was very professional with his service and knew what he was doing. 10 out of 10 would recommend to anyone looking for irrigation and landscape help.
I can't speak more highly of the work that is performed by the professional staff at Simmons.
They aren't the cheapest, but the quality of workmanship is worth it to me.
Simmons Landscape was excellent.
Installer Chris was competent, friendly, took time to explain anything and everything I asked, was skillful, and put in a hard day's work for the day and a half it took to install. Then he thoroughly explained operation and maintenance.
I highly recommend Simmons for a home underground watering system.
Reclaim Your Time With A Hassle-Free
Irrigation System