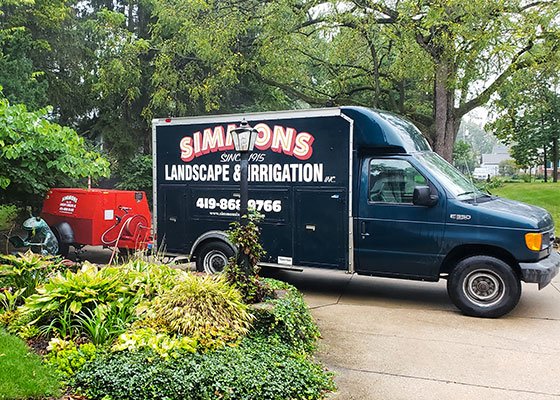 As landscape professionals, we are very passionate about our job. But the number one thing that matters most to us – and that defines any successful job here at Simmons – is keeping our customers front and center.
You and your project deserve our undivided attention and care. Our goal is to make sure you feel heard and understood, and that we've provided the best quality service and experience you've ever had.
Fill out the form below and we'll get back to you with a phone consultation to discuss how we can help you achieve your dream lawn.
Tell Us Everything About Your Lawn
We're here to help you get that green lawn you've always wanted. Tell us about your landscape in the form below. Please also send us some pictures of your yard and problem areas while describing your overall vision. We can't wait to work on your project!
In A Hurry? Get In Touch Directly
Here's What Customers Say
Our happy clients from around the greater Toledo area and Northwest Ohio love the work that we do, and our commitment to the environment. Most of all, they love how our long-term irrigation solutions free up their time and help beautify their home.
Chris did a phenomenal job with our irrigation system.
He was very professional with his service and knew what he was doing. 10 out of 10 would recommend to anyone looking for irrigation and landscape help.
I can't speak more highly of the work that is performed by the professional staff at Simmons.
They aren't the cheapest, but the quality of workmanship is worth it to me.
Simmons Landscape was excellent.
Installer Chris was competent, friendly, took time to explain anything and everything I asked, was skillful, and put in a hard day's work for the day and a half it took to install. Then he thoroughly explained operation and maintenance.
I highly recommend Simmons for a home underground watering system.